Henkel Collaborates to Power the Next, Greener Industrial Revolution
LOCTITE 3D Printing
In a previous article, we introduced the topic of sustainability and its importance within Henkel. We have a long history of prioritizing the environment in both our products, and our approach towards innovation.
It's been said that additive manufacturing will drive the next industrial revolution. As that vision comes to fruition, we're committed to driving responsible environmental practices, throughout the entire value chain.
Open Materials Network
Recently, Henkel launched its Open Materials Network to foster collaboration between the manufacturers of 3D printers on one side of the spectrum, and end users who consume our products on the other. Sustainability is a core driving principle.
One of the program's participants is NewPro3D. The Vancouver based company focuses on ultra-fast 3D printing of photopolymers. They work closely with universities and hospitals, where the accelerated rate of additive manufacturing contributes to better communication and procedures in radiology and dental departments.
"While there is no doubt that 3D printing streamlines prototyping and surgery planning processes (and therefore could be argued that 3D printing creates less waste than the alternative) models often have a limited lifetime, and it is essential that leaders in the AM space take the extra step beyond ensuring that a customer prints successfully," says NewPro3D COO, Gabriel Castanon. "That extra step is encouraging and providing solutions to recycling. 3D printing is still in its early stages, and at NewPro3D we think it is essential to be proactive rather than reactive. We don't want to wait until others ask us about sustainability. The creation of every product should go hand in hand with the question, "how does this affect the environment?" We are well aligned with Henkel's recycling views, as it sets an example for the rest of the industry."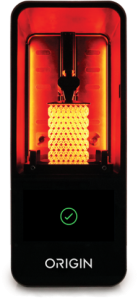 Origin One
Another initial partner, Origin shares many of the same concerns regarding sustainability.
"Most of the attention around sustainability and 3D printing is focused on the energy usage and reduction of inventory and there is a misconception that it's a completely green technology," says Origin's Director of Marketing, Finbarr Watterson. "Waste is a big issue and Vat Polymerization technologies are not exempt. Many UV curing technologies require a full tray of resin to print with (even if the part is small). Many resins have a very short pot life once opened (sometimes less than the print time) and any unused resin needs to be thrown out."

"Origin's P3 technology does not require a full tray of material, minimizes the need for supports, and consumes single part materials that can be reused, which together can drastically reduce the amount of waste, not to mention the overall cost. Henkel is an important material partner for Origin. Their commitment to sustainability is closely aligned with ours and we were thrilled to be an early partner in this program. Having the ability to recommend a sustainable material recycling program is extremely valuable and it enables us to have a more positive impact even further along the supply chain."
For Henkel, it's gratifying that our efforts are appreciated and valued by our business partners and their customers. But we also understand that there is much work still to be done. We're committed to continuous improvement and maintaining our position as an environmental leader. Both internally, and working with others in the industry, we are focused on helping additive manufacturing power a new, greener industrial revolution.
This article also appears at Get3DSmart.com